MFL Christmas Card Competition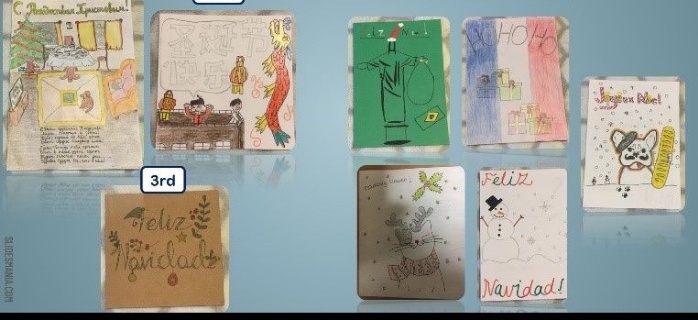 Please enter an introduction for your news story here.
This half term, the MFL team invited students in Years 7, 8 and 9 to design a Christmas card in any Foreign Language of their choice, as part of a regional competition promoted by the West Midlands branch of Routes into Languages.
We were overwhelmed by the number of fantastic entries received and we have awarded house points and certificates of participation to all of them for the time and effort spent. We have also sent them off to the regional organisers to be entered in their competition. Good luck to all of you.
We received nearly 100 entries in a wide range of languages: French, German, Spanish, Italian, Welsh, Polish, Portuguese, Russian, Chinese, Japanese, Finnish, Swedish, Turkish, Indonesian, Nepali, Shona and Ghanaian.
We have tried to award as many prizes as possible and we have selected cards for the following categories:
Outstanding Creative Work
Best Crafted Card
Best Artwork
Best Linguistic Input
Most Festive Design
Most Traditional / Vintage Look
I hope you enjoy them as much as we do.