BHBS Student raising money for mental health campaign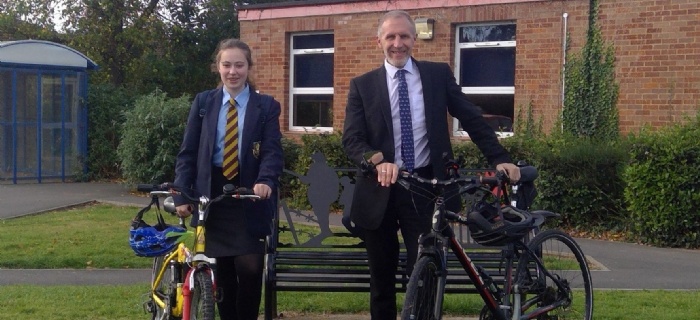 Chelsey Parry in Year 8 is raising money for the CLD trust in Herefordshire to support mental health as a result of the pandemic in a sponsored cycle ride for each year of her age. The 13-mile sponsored ride will take place on Saturday 6th November at the HALO sports centre.
To support her in raising awareness of the cause, Mr Henton (Headteacher) is going to match her miles in a ride around Hereford on the same day.
Fiona Barrington of Strong Young Minds wrote:
"I am contacting you to let you know how proud we are of your year 8 student, Chelsey Parry.
Over the summer Chelsey completed our Strong Young Minds Champions Training. Our Champions learn about mental health and how to support their peers, raise awareness and reduce stigma. The team at Strong Young Minds support them throughout their journey in whatever way is needed. Chelsey did very well, and we are excited to see how she grows and what ideas she is able to bring to fruition.
One part of what Champions do is run campaigns around mental health. This is the first thing Chelsey wants to do and she would like to raise funds for Strong Young Minds with a bike ride."
A funding page has been set up for Chelsey and any donations to the campaign can be made via the link below.
https://www.givey.com/chasingchelsey.
Well done Chelsey and Good Luck!